The Ultimate Guide to OET Test Day on Computer: Part 2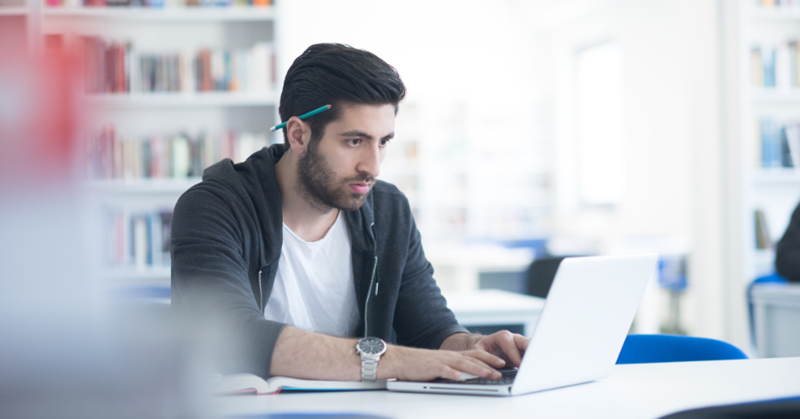 This article is part two of our Ultimate Guide to OET Test Day series that explores all the key elements you need to be aware of before you take your OET. You can read the Ultimate Guide to OET Test Day: Part One on the OET Blog. 
---
In part one, we walked through all steps up until the ID check. These included:
Checking your venue details
What you need to bring to the test
When you should arrive
The ID check process.
In part two, we will walk through the final steps of the OET Test Day process. You'll find information about sitting Listening, Reading and Writing, breaks during the test, and when you can leave the venue.
Take a look at each step below and get prepared for test day.
Make sure you check your timetable to guide you on OET Test Day.
1. What to do when you enter the test room
Following the ID check, you will be asked to enter the test room, where you'll be allocated a computer desk. Once you're sitting comfortably, please enter your 8-digit confirmation number and hit OK. You'll then be asked to confirm that your details are correct. If they are not, please raise your hand to get help from the test administrator.
Lastly, you'll need to scroll down and click that you accept the OET terms and conditions.
You will now see an on-screen a tutorial on how to navigate through the test. Please read through this carefully and once you are confident about how to proceed, click the "Start the Test" button at the bottom right of your screen.
Here is a video in which OET expert Rebecca takes you through the computer tutorial.
What order will the sub-tests come in?
You will start with the Listening sub-test followed by Reading and Writing, with a 10-minute break after Reading part A. You will not be able to access your locker during this time, and if you leave the test room to use the toilet, you will have to go through the security check again.
Your Speaking sub-test will take place at a different time from home, over Zoom. It may take place either before or after your Listening, Reading and Writing tests, depending on your individual timetable.
2. Taking the Listening sub-test
The OET Listening sub-test is comprised of three parts and a total of 42 question items based on general healthcare topics, which means they are accessible to all 12 professions.
Running for 50 minutes, it includes time to listen to the recorded conversations and answer the questions.
3. Taking the Reading sub-test
You will have 60 minutes to complete the Reading sub-test, which consists of three parts and has a total of 42 question items. The 60 minutes is split into 15 minutes for Part A and 45 minutes for Parts B and C.
Scheduled break
After Reading Part A you there is a 10-minute break. If you need to visit the toilets during this time and/or access your locker to take a drink of water, please raise your hand to notify the test administrator, who will escort you out of the room and supervise your access to your locker.
When the scheduled break is finished, the test administrator will escort you back to your workstation to continue the test.
4. Taking the Writing sub-test
The Writing sub-test takes 45 minutes and is specific to your profession. Each of the 12 professions will have a unique writing task based on a typical workplace situation.
5. After your Listening, Reading and Writing sub-tests
When you've finished  your Writing test, please head to the test administrator's desk to sign out. You can then go back to the reception area, remove your bag and any other items from your locker and leave the test venue.
6. Taking the Speaking sub-test
As the Speaking sub-test takes place separately to Listening, Reading and Writing, be sure to check your timetable so you know exactly when it is. You will take the test from home (or any other suitable location) via Zoom. Please be sure to check how your room must be set up as well as device and system requirements in the OET Speaking Test Online User Guide. Note: mobile phones may not be used for the Speaking test.
What to have with you
Your valid ID (the same idea you used when you booked OET)
A piece of blank paper
A pen or pencil
If you wish, a clear bottle of water without a label.
Please note that you may not use headphones for the Speaking test.
The Speaking sub-test is delivered individually and takes around 20 minutes. Before you begin your test, the interlocutor will introduce him or herself, check your ID (the same one you used when you booked the test), and take you through a security check. As part of this process, they will also take a photo of you.
You can find further information about the security check in the OET Speaking Test Online User Guide.
Next your interlocutor will take you through some warm-up questions, which are not assessed - they're just a chance for the two of you to get used to each other's voices.
The test itself consists of two role plays. Each profession will have specifically designed materials that draw on real healthcare scenarios.
At the start of each role play, the interlocutor will share their screen with the role-play card, which you'll be able to see throughout the test. You will be given three minutes to read through the card, make notes and ask the interlocutor to clarify anything you don't understand. This includes the definition or pronunciation of words on the card but not about how you should complete the task. Each role play is five minutes long.
You'll be able to see the time throughout but don't focus on the clock too much - the interlocutor will tell you when your time is up.
You will follow the same process for the second roleplayer card.
It's important to remember that the interlocutor does not assess you during the Speaking sub-test. Instead, a recording of your test is sent to an assessment team where it is assessed later.
Please see the OET Speaking Test Online User Guide for everything from the device you can use for taking the test to what software you need to download.
We hope you have found this guide helpful and we wish you all the best for test day!