Master the NHS Values with our new online course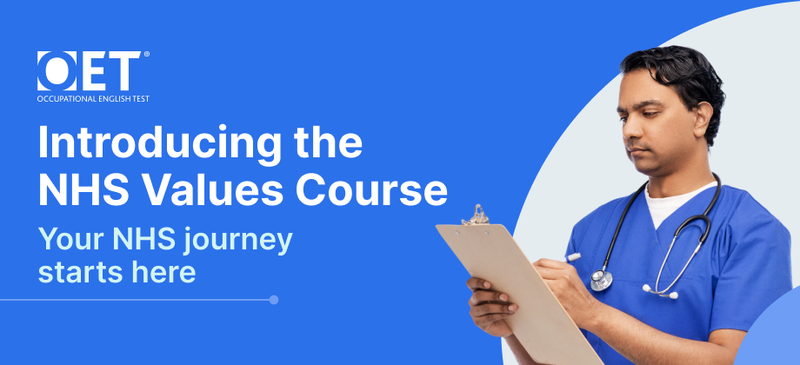 Are you an OET candidate or alumni dreaming of a career in the National Health Service (NHS) in the UK? We're here to help you enhance your skills and boost your employability within the NHS by introducing our new NHS Values Course. This comprehensive online course aims to equip you with a deep understanding of the NHS values and how they are woven into the fabric of the UK healthcare system. 
What is the NHS Values course?  
Our NHS Values Course bridges the gap between language proficiency and workforce readiness, ensuring you are fully prepared to embark on a fulfilling career in the NHS.  
By understanding and demonstrating the NHS values, you can demonstrate your commitment to delivering exceptional care and making a positive impact on patients' lives. Understanding the NHS values also has the power to improve your own experience in those first critical few months working at a new job, in a new country.  
Why are the NHS values important? 
When you succeed in OET, you prove that you possess the necessary language skills to communicate effectively in the global healthcare industry. However, there is much more to succeeding in the field than just language proficiency.  
The NHS holds a set of core values that govern its operations and shape the behaviour of its healthcare professionals. Familiarising yourself with these values is not only crucial for performing well in your NHS job search and interview, but also for interacting with your future colleagues and providing safe and effective patient-centered care. 
Why choose our NHS Values Course? 
By completing the NHS Values Course, you open doors to incredible opportunities within the NHS and the wider healthcare sector. Here are some reasons why this course is for you: 
Enhance your opportunities: Understanding and demonstrating the NHS values will make you a highly sought-after candidate for employment with the NHS. Employers appreciate professionals who are not only skilled in their field but also embrace the core values that drive excellence in patient care. 
Smoother transition to the NHS: Adapt quickly to the working practices and behaviours you will encounter whilst working in a different healthcare system in a new country and reduce cultural challenges.   
Advance your career: Demonstrating proficiency in the NHS values is crucial for career advancement within the NHS. This course equips you with the knowledge and skills to excel in your role, opening doors to new opportunities. 
Improve patient care: By embodying NHS values, you contribute to improving patient outcomes and the overall quality of healthcare. Through this course, you develop a patient-centric approach that fosters trust, empathy, and compassion. 
What can you expect in the NHS Values Course? 
The self-paced, online course is designed to equip you with the skills and knowledge needed to thrive in the NHS. You'll dive into each NHS value individually through:  
engaging videos 

 

interactive activities

 

informative podcasts and articles

 

quizzes.

 
You'll explore their meanings, practical implications, and how the values shape your role as a healthcare professional. This comprehensive approach ensures you connect with the theory and know how to apply these values in real-life scenarios. 
By completing the course, you'll enhance your awareness of: 
the patient-focused care approach

 

compassionate behaviours

 

commitment to quality, inclusivity, teamwork, and respect for all. 

 
These invaluable skills will set you apart in the job market and enable you to provide exceptional care to patients from diverse backgrounds. So, what are you waiting for? Enrol now to get NHS job ready.