Everything you need to know after taking OET and receiving your results.
Well done on sitting your OET test – whether you've chosen to sit the test on computer or at one of our venues, we thank you for trusting us with your assessment. 
Depending on where you are in your OET journey, you may have some questions, so we've compiled a list of FAQs below. 
Results and scoring
You can see an overview of your latest test results via your online profile on the OET website. Results for OET on Computer (at a venue, or OET@Home) are available within 10 days of the test date*. OET on Paper results are available 17 days** after the test date.
Official copies of Statements of Results can be downloaded from your online profile. You can choose which test administration you wish to download a Statement of Results for and this will list the scores you obtained in that particular test administration.
The four sub-tests that make up the OET are reported on a scale from 0 to 500 in ten-point increments (e.g. 350, 360, 370 etc). The numerical score will be mapped to a separate letter grade for each sub-test ranging from A (highest) to E (lowest). There is no overall grade for OET. An OET Statement of Results shows your score on a scale from 0 to 500. Check 'Results Table' to learn more about results reporting.
*OET on Computer results are released within 10 days for 95% of candidates.
**Timing varies due to public holidays, particularly towards the end of the year. 
Grades and scores, explained
The four sub-tests that make up the OET are reported on a scale from 0 to 500 in ten-point increments (e.g. 350, 360, 370 etc). The numerical score will be mapped to a separate letter grade for each sub-test ranging from A (highest) to E (lowest). 
You will receive a Statement of Results with your score for each of the sub-testson a scale from 0-500:
Grade

OET score 

OET band descriptors

A
500
490
480
470
460
450
Can communicate very fluently and effectively with patients and health professionals using appropriate register, tone and lexis. Shows complete understanding of any kind of written or spoken language.
B
440
430
420
410
400
390
380
370
360
350
Can communicate effectively with patients and health professionals using appropriate register, tone and lexis, with only occasional inaccuracies and hesitations. Shows good understanding in a range of clinical contexts.
C+
340
330
320
310
300
Can maintain the interaction in a relevant healthcare environment despite occasional errors and lapses, and follow standard spoken language normally encountered in their field of specialisation.
C
290
280
270
260
250
240
230
220
210
200
D
190
180
170
160
150
140
130
120
110
100
Can maintain some interaction and understand straightforward factual information in their field of specialisation, but may ask for clarification. Frequent errors, inaccuracies and mis-or overuse of technical language can cause strain in communication.
E
90
80
70
60
50
40
30
20
10
0
Can manage simple interaction on familiar topics and understand the main point in short, simple messages, provided they can ask for clarification. High density of errors and mis- or overuse of technical language can cause significant strain and breakdowns in communication.
What score do you need to pass OET?
Most recognising boards and councils require candidates to score at least 350 in each of the four sub-tests. But to make sure you're up-to-date with requirements, always check with the relevant boards and councils that regulate your profession.
Results equivalency with IELTS and CEFR
Check out these two tables to understand how OET scores are equivalent to IELTS and CEFR: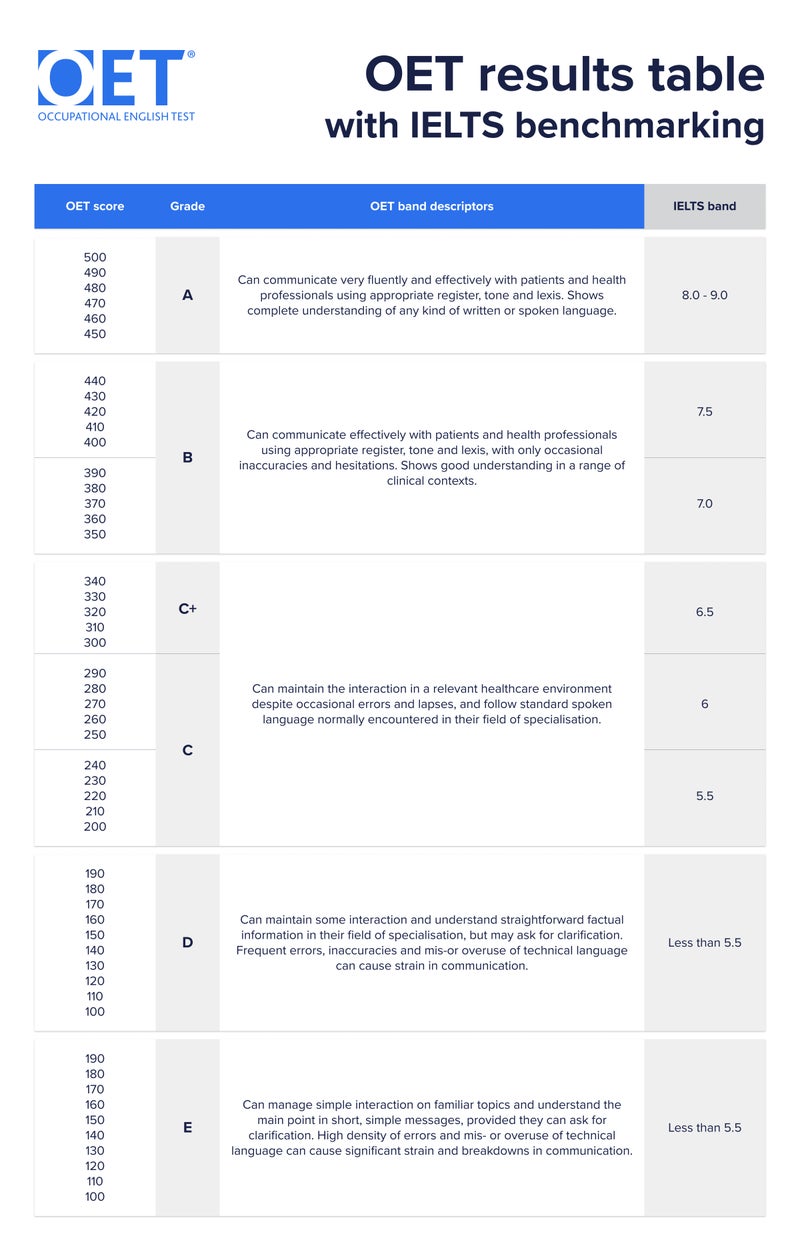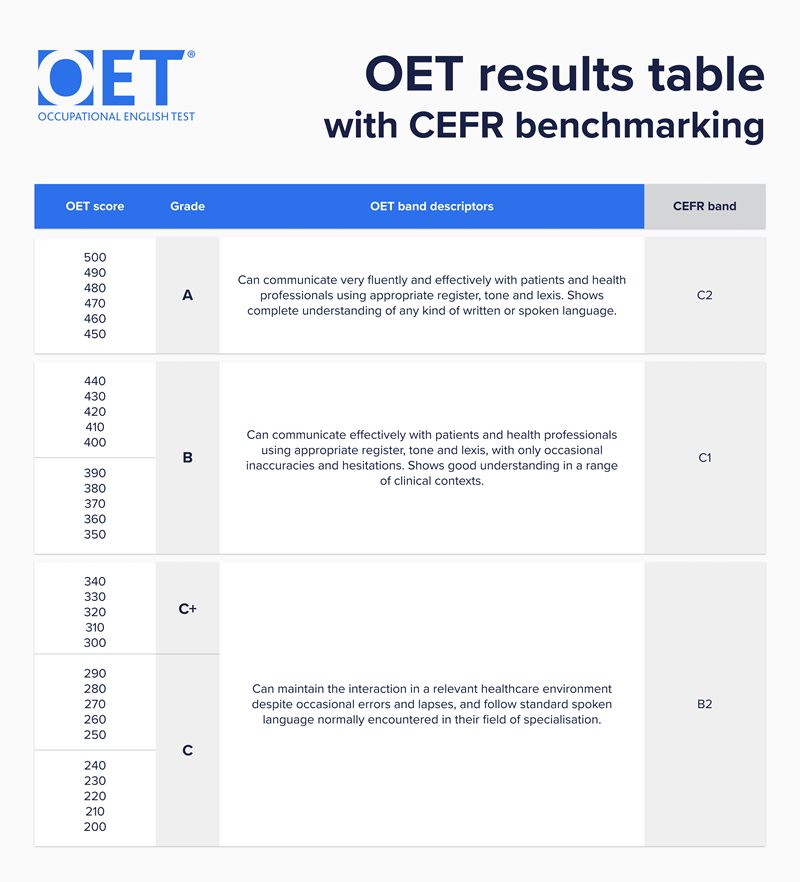 Why did I get different scores for OET sub-tests?
There are many aspects to being able to use a language effectively, and it is not unusual for candidates to have profiles which are uneven across the different component skills of Listening, Reading, Writing, and Speaking. Even within a single skill, a candidate may be relatively strong in certain areas (for example, fluency) and relatively weak in another (such as accuracy).
For how long are OET results valid?
The length of time the results are recognised as valid is decided by the authorities that recognise OET (e.g. boards and councils, government departments). Always check your authority's website for details to make sure you know their requirements. 
What does OET do about cheating?
We take very seriously our responsibility to candidates and to recognising authorities for identifying, investigating and acting on cases of suspected malpractice. All OET test responses are routinely subjected to statistical and qualitative analysis so we can detect unusual response patterns and irregular score profiles.
Cambridge Boxhill Language Assessment (CBLA, the owner of OET) reserves the right to withhold results while malpractice investigations are in progress. CBLA may share the details of any investigation, including candidate information, with relevant regulatory authorities and law enforcement agencies. You can find our policy on malpractice in the OET Test Regulations.
Reporting and sharing OET results
Boards and councils can access OET results via the OET website. Registration authorities are advised to register for secure access to the site to check individual results – access to the online verification system is controlled by CBLA. To gain access, managers working for health profession Assessing/Registration Authorities apply for individual staff members to have secure access.
What if I haven't achieved the results I need?
We understand you've invested time and money attempting to obtain the results you need to take the next step in your career. If you've received results that don't meet your needs, at this point we strongly encourage you to stop, and reflect - do you need more test-taking skills and/or to build your English skills?
Test-taking skills
Taking the OET Test successfully involves understanding of how to take a test, independent of your knowledge of the English language.
If you need to boost your test-taking skills, make sure you've attended our free Masterclasses, which explain how to make the best of your time during the test, what to expect, and how to reduce anxiety. 
The OET Online Preparation Course and Practice Books, which are available for purchase, also help you to understand the test design and include preparation and practice exercises.
Visit our preparation page for these resources.
English language skills
In most cases when one of our test takers has had multiple unsuccessful attempts to receive the results they need, having insufficient English skills will be the main barrier holding them back. 
In such situations, re-taking the test several times in short succession, without taking any steps to improve your English skills, will most likely not result in an improvement of scores. Instead, exploring your skill building across English grammar, vocabulary, pronunciation, reading and listening comprehension and communication skills is very important to progress towards a successful result.
If your English skills need a boost, we recommend you take a general English course. Check out our list of preparation providers. 
You might also enquire with other educational institutions to get the learning resources you need. Let the school know your OET Test results and make it clear which grade you want to achieve, so they can put you in the right course. Shop around to ensure you get the best course to suit your availability and needs.
We believe that by improving your test-taking and English language skills, you will be in a better position to achieve success on the OET Test.
Why would my results be withheld?
We understand results being withheld can be a frustrating experience for our candidates, and it's not a decision we take lightly. As part of our commitment to preventing fraud and maintaining the security and integrity of the test, we have rigorous processes and policies in place to identify and manage malpractice in assessments. A candidate's result might be disqualified as an outcome of malpractice investigation, and results withheld while investigation is being conducted. To find out more about our Malpractice policy, please see our regulations.
Re-marking
Can I have my test re-marked?
Yes, you are welcome to apply to have one or more sub-tests re-marked. However, you must do so within 72 hours of your results being published. Please see our Re-marking Policy.
How might my score change after re-marking?
One of the benefits of human assessors marking OET candidate papers is that they can make judgements about the nuances of expression used by candidates and don't have to rely on formulaic responses being provided. However, this also means slightly different scores may be awarded by different assessors, which could occasionally impact borderline candidate scores. These scores may change following a re-marking exercise.
Why hasn't my score changed after a re-marking?
We follow strict assessment guidelines to ensure that results are accurate, including consistent training and monitoring of OET assessors, double marking and checking tests, and statistical analysis.
If your score remains the same after re-marking, this means our review of the scoring data has confirmed the assessment criteria have been applied correctly. If you still have concerns about the fairness of the re-marking decision, you can appeal the outcome.
The best way to perform well on OET is to ensure that your English language communication skills are at the required level. For more information on improving your performance in the test, please visit Preparation Information.