Everything you need to know after taking OET and receiving your results
Results and scoring
Receiving & reporting OET results
You can see an overview of your latest test results via your online profile on the OET website. Results for OET on Computer (at a venue, or OET@Home) are available within 10 days of the test date*. OET on Paper results are available 17 days** after the test date.
Official copies of Statements of Results can be downloaded from your online profile. You can choose which test administration you wish to download a Statement of Results for and this will list the scores you obtained in that particular test administration.
The four sub-tests that make up the OET are reported on a scale from 0 to 500 in ten-point increments (e.g. 350, 360, 370 etc). The numerical score will be mapped to a separate letter grade for each sub-test ranging from A (highest) to E (lowest). There is no overall grade for OET. An OET Statement of Results shows your score on a scale from 0 to 500. Check 'Results Table' to learn more about results reporting.
Boards and councils can access OET results via the OET website. Registration authorities are advised to register for secure access to the site to check individual results – access to the online verification system is controlled by CBLA. To gain access, managers working for health profession Assessing/Registration Authorities apply for individual staff members to have secure access.
*OET on Computer results are released within 10 days for 95% of candidates.
**Timing varies due to public holidays, particularly towards the end of the year. 
Why did I get different scores for OET sub-tests?
There are many aspects to being able to use a language effectively, and it is not unusual for candidates to have profiles which are uneven across the different component skills of Listening, Reading, Writing, and Speaking. Even within a single skill, a candidate may be relatively strong in certain areas (for example, fluency) and relatively weak in another (such as accuracy).
Results grades and scores, explained
You will receive a Statement of Results with your score on a scale from 0-500 for each of the sub-tests:
Grade

OET score 

OET band descriptors

A
500
490
480
470
460
450
Can communicate very fluently and effectively with patients and health professionals using appropriate register, tone and lexis. Shows complete understanding of any kind of written or spoken language.
B
440
430
420
410
400
390
380
370
360
350
Can communicate effectively with patients and health professionals using appropriate register, tone and lexis, with only occasional inaccuracies and hesitations. Shows good understanding in a range of clinical contexts.
C+
340
330
320
310
300
Can maintain the interaction in a relevant healthcare environment despite occasional errors and lapses, and follow standard spoken language normally encountered in their field of specialisation.
C
290
280
270
260
250
240
230
220
210
200
D
190
180
170
160
150
140
130
120
110
100
Can maintain some interaction and understand straightforward factual information in their field of specialisation, but may ask for clarification. Frequent errors, inaccuracies and mis-or overuse of technical language can cause strain in communication.
E
90
80
70
60
50
40
30
20
10
0
Can manage simple interaction on familiar topics and understand the main point in short, simple messages, provided they can ask for clarification. High density of errors and mis- or overuse of technical language can cause significant strain and breakdowns in communication.
What score do you need to pass OET?
Most recognising boards and councils require candidates to score at least 350 in each of the four sub-tests. But to make sure you're up-to-date with requirements, always check with the relevant boards and councils that regulate your profession.
Results equivalency with IELTS and CEFR
Check out these two tables to understand how OET scores are equivalent to IELTS and CEFR: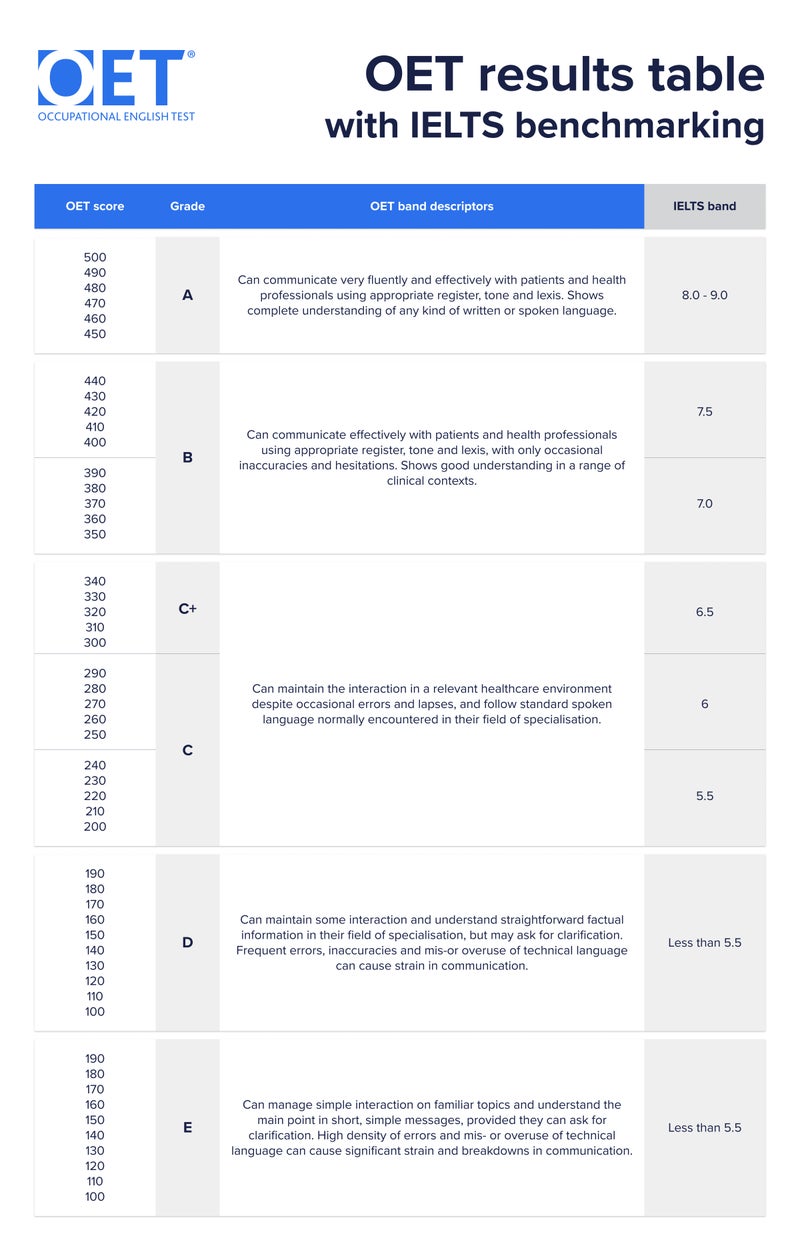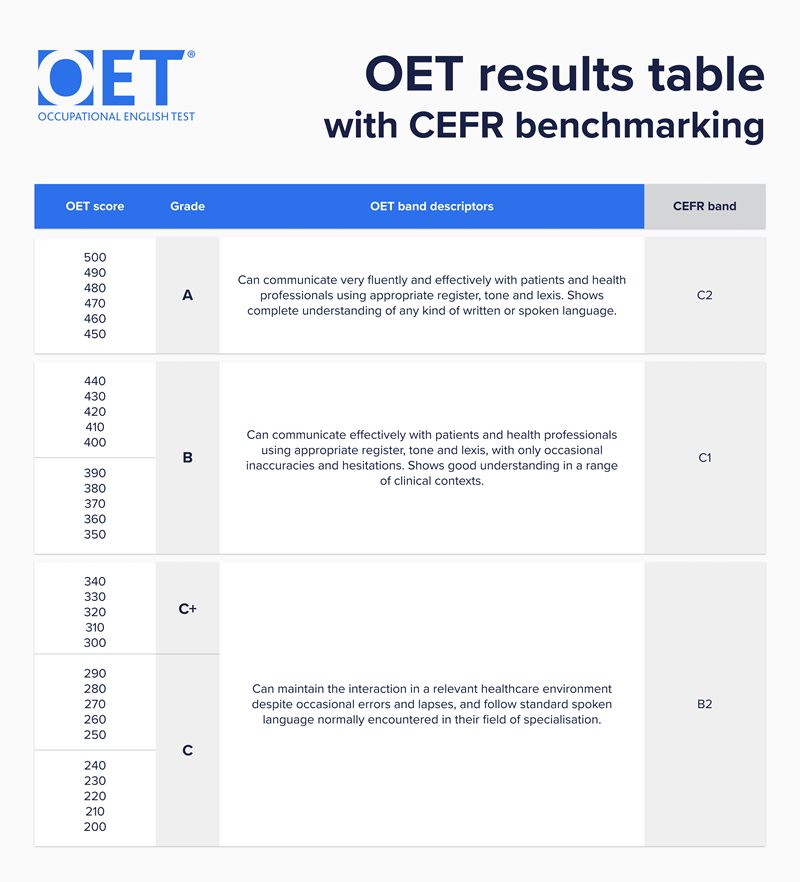 For how long are OET results valid?
The length of time the results are recognised as valid is decided by the authorities that recognise OET (e.g. boards and councils, government departments). Always check your authority's website for details to make sure you know their requirements. The Australian Department of Immigration and Border Protection (DIBP) also publicises their requirements on their website.
Assessment
How appropriate is OET for health practitioners who want to work in English-speaking healthcare environments?
Research indicates that the test is appropriate in content and difficulty for the healthcare workplace.
A 2013 study by Cambridge English Language Assessment (Vidakovic & Khalifa, 2013) found that success at OET is a good indicator of workplace readiness in terms of language proficiency. 93% of health professionals agreed or strongly agreed that their employees and colleagues who have taken OET use English effectively in the health-related workplace. OET test takers found that the relevance to their professional contexts of test topics and content helped them engage more with the test preparation process, and made them feel confident about their ability to communicate effectively with patients, carers, and colleagues.
In a 2013 study by the Language Testing Research Centre (LTRC) at the University of Melbourne (Macqueen, Pill, Elder, Knoch, 2013), OET test takers reported that the test tasks were highly relevant to workplace communication, and therefore taking OET had a beneficial impact in terms of acculturation as well as language proficiency. The research was conducted in Australia and noted that preparing for the test helped set their expectations of professional life and the workplace in the Australian context, and aspects of test content and tasks helped them participate more effectively when working in Australia.
CBLA, in partnership with the LTRC and Cambridge Assessment English, is engaged in an ongoing programme of research and validation to ensure that OET continues to reflect the demands of communication in the workplace and that the test experience continues to have a positive impact on candidates and other stakeholders.
Your answer booklets for Listening Part A and for Reading Part A are marked by trained OET Assessors. These answer booklets are assigned to OET Assessors at random to avoid any conflict of interest. Your answer booklets for Reading and Listening Parts B and C are computer scanned and automatically scored.
Listening and Reading Assessors use a detailed marking guide which sets out which answers receive marks and how the marks are counted. Assessors use this guide to decide for each question whether you have provided enough correct information to be given the mark or marks available. Assessors are monitored for accuracy and consistency, and your Part A answers are marked by at least two different assessors.
Your performances on the Writing and Speaking sub-tests are each rated by at least two trained Assessors. Audio files and scripts are assigned to Assessors at random to avoid any conflict of interest. Your test-day Interlocutor is not involved in the assessment process.
Writing and Speaking Assessors are monitored for accuracy and consistency, and the scores they award are adjusted to take into account any leniency or severity. If two Assessors award different scores to your performance, your script and/or audio file will be referred to at least one other senior Assessor not previously involved in your assessment.
For the Writing sub-test, each Assessor scores your performance according to six criteria: Purpose, Content, Conciseness & Clarity, Genre & Style, Organisation & Layout, and Language. Each criterion is assigned a band score from 0 to 7, except Purpose, which has a band score of 0 to 3. A score of 350 (previously grade B) for Writing requires a high level of performance on all six criteria.
For the Speaking sub-test, each Assessor scores your performance according to nine criteria. The four linguistically-oriented criteria are Intelligibility, Fluency, Appropriateness of Language, and Resources of Grammar and Expression. They are assessed on a scale from 0 to 6. Clinical communication criteria include Indicators of Relationship Building, Indicators of Understanding & Incorporating the Patient's Perspective, Indicators of Providing Structure, Indicators for Information Gathering and Indicators for Information Giving. They are assessed on a scale from 0 to 3. A high level of performance on all nine criteria is required in order to achieve a score of 350 (previously grade B) on the speaking test.
Why are some of the OET tests 'profession specific'?
Our test is designed to assess English language ability, not medical knowledge. That means our test developers take care to minimise areas where test takers may use prior knowledge rather than language skills to respond.
That's why we have designed the OET Listening and Reading sub-tests to not be profession specific. They are common to all candidates and focus on a variety of issues of general medical and health interest. While some topics may include content that is familiar to one particular health practitioner's area of experience and expertise, the language tasks and questions associated with the texts are designed to test language knowledge and ability.
The OET Writing and Speaking sub-tests are profession specific, which means the test materials reflect real workplace scenarios specific to the test-takers profession. We've designed the test this way because communicating via speaking and writing provides opportunities for candidates to draw on their professional experience to demonstrate their ability to communicate in common workplace situations.
For example, all medical professionals conduct consultations with patients/clients, but they are likely to need to engage with those patients/clients about different issues in different contexts. Research (Vidakovic & Khalifa, 2013) indicates that preparing for OET helps make candidates ready for the workplace and increases their confidence in communicating with patients and colleagues.
Does OET provide a generic test?
No, OET does not provide a generic test. OET tasks are contextualised and work-related, and they target the following 12 professions: Dentistry, Dietetics, Medicine, Nursing, Occupational Therapy, Optometry, Pharmacy, Physiotherapy, Podiatry, Radiography, Speech Pathology, and Veterinary Science.
If your profession is not one of the 12 listed above, you may choose to sit the OET test for the profession which is closest to your own. For example, we understand that sonography registrants have taken the OET Radiography test, and that orthotics registrants have taken the OET Physiotherapy test. You may want to consider the sample tests available to get some idea of the test content for each profession. please visit the Preparation Information on the OET website for sample tests and additional support materials.
However, before you register for OET , we strongly recommend that you consult the appropriate regulatory authorities to confirm whether they will accept your OET results as proof of English language ability and to check which OET profession-specific test would be most suitable.
What does OET do about cheating?
We take very seriously our responsibility to candidates and to recognising authorities for identifying, investigating and acting on cases of suspected malpractice. Irrespective of whether suspected test day cheating is reported, all OET test responses are routinely subject to statistical and qualitative analysis for the detection of unusual response patterns and irregular score profiles. Cambridge Boxhill Language Assessment (CBLA, the owner of OET) reserves the right to withhold results while malpractice investigations are in progress. CBLA may share the details of any investigation, including candidate information, with relevant regulatory authorities and law enforcement agencies. You can find our policy on malpractice in the OET Test Regulations and Notice to Candidates.
Re-marking
Can I have my test re-marked?
Yes, you are welcome to apply to have one or more sub-tests re-marked. However, you must do so within 72 hours of your results being published. Please see our Re-marking Policy.
How might my score change after re-marking?
One of the benefits of human assessors marking OET candidate papers is that they can make judgements about the nuances of expression used by candidates and don't have to rely on formulaic responses being provided. However, this also means slightly different scores may be awarded by different assessors, which could occasionally impact borderline candidate scores. These scores may change following a re-marking exercise.
Why hasn't my score changed after a re-marking?
We follow strict assessment guidelines to ensure that results are accurate, including consistent training and monitoring of OET assessors, double marking and checking tests, and statistical analysis.
If your score remains the same after re-marking, this means our review of the scoring data has confirmed the assessment criteria have been applied correctly. If you still have concerns about the fairness of the re-marking decision, you can appeal the outcome.
The best way to perform well on OET is to ensure that your English language communication skills are at the required level. For more information on improving your performance in the test, please visit Preparation Information.
Looking for more practice material?
Understand each of the sub-tests in more detail and find preparation resources.