OET on Computer: More Flexibility and Faster Results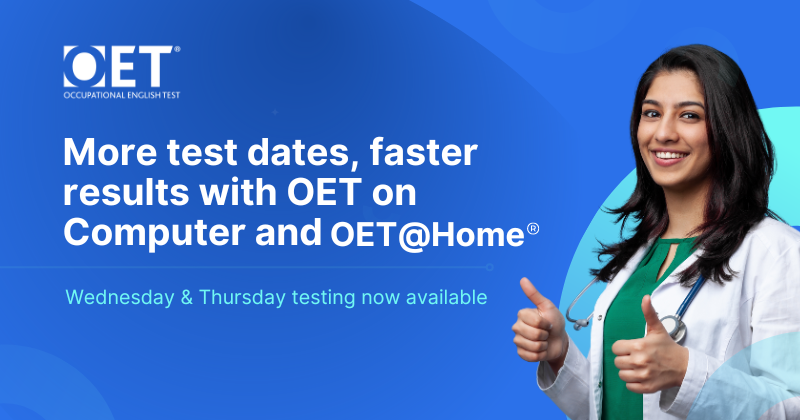 To bring greater convenience to healthcare professionals seeking to take an English proficiency test, we are introducing improvements to OET on Computer.
OET on Computer, at a venue or through OET@Home, is now available on Wednesdays and Thursdays, in addition to our existing Friday and Saturday test dates, worldwide. This increased capacity means that candidates have greater flexibility to choose a date that better suits their schedule.
In addition to the increased flexibility, we are improving how quickly we deliver results for OET on Computer. Now candidates can receive their OET on Computer (whether at a venue or through OET@Home) test results in just 10 days*.

Ensuring they receive results in a shorter time, makes it easier for healthcare professionals to plan each step of their professional journey and move towards their career goals faster.
These improvements get us closer to our ambition to offer OET with better experience, convenience and flexibility for all our test takers.
With more test dates and faster results, OET on Computer at a venue continues to be a popular choice for many candidates. Candidates can also choose a test that suits them from our three delivery modes, including OET on Paper, OET on Computer and OET@Home.

For more information about OET on Computer or any of our products, please contact applications@oet.com.au


*OET on Computer results are released within 10 days for 95% of candidates.