From all of us at OET, congratulations to the NHS for 75 years of dedicated service to health and care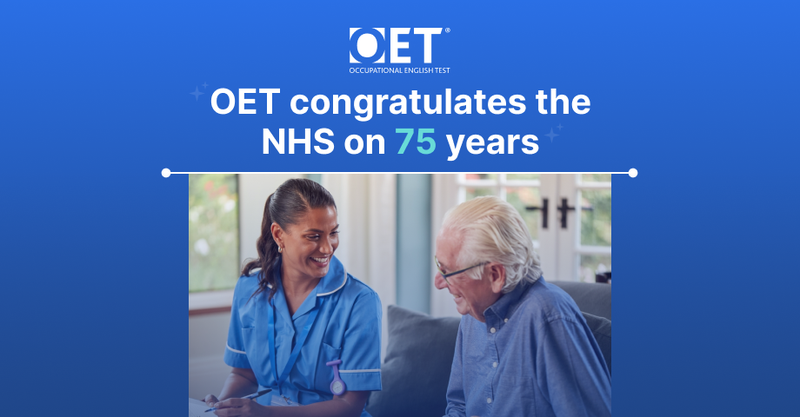 On 5 July 2023, the UK's National Health Service (NHS) celebrates 75 years of service, a significant milestone that celebrates their contributions to health and care. From OET, we congratulate everyone at the NHS and extend our thanks for your dedicated service over the years. 
Founded in 1948, the NHS's anniversary is an opportunity to celebrate as well as reflect on the 75-year long history that built the NHS we know today. The NHS has continuously evolved and adapted to meet the needs of each succeeding generation, playing a pivotal role in medical advancements, including pioneering the world's first CT scan on a patient in 1971, among many other contributions. Notably, the NHS demonstrated remarkable resilience responding to the intense demands of the COVID-19 pandemic on healthcare. 
As the largest employer in Europe today, employing 1.3 million health and care professionals from all over the world and offering 350 different careers, the NHS embraces a rich tapestry of ethnicities within its workforce. Almost half of their medical staff are from minority backgrounds, with many immigrating from other countries to work in the NHS. Over the years, they've come from the Caribbean, Africa, India Subcontinent and Europe among many other places. Whether they've arrived in the UK looking for opportunities, following their dreams or fleeing hardships, their contributions have made the NHS's vision a reality.   
On this momentous milestone, we acknowledge and thank all the healthcare professionals from different backgrounds, from around the world, who come together in the NHS to deliver care to patients across the UK daily. 
At OET, we share the NHS's values of serving and supporting diverse populations for better opportunities, and better healthcare, for all. We are delighted to join in celebrating the NHS's remarkable 75-year journey. 
Visit the NHS website to see how you can celebrate the NHS's 75th birthday: https://www.england.nhs.uk/nhsbirthday/