3 things you didn't know were cheating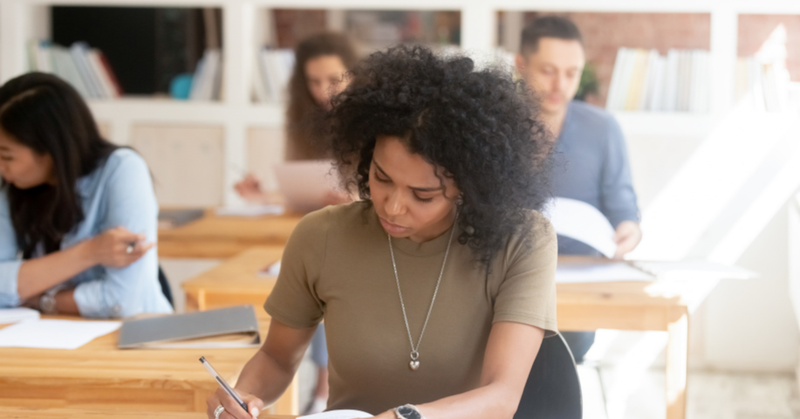 Cheating affects honest, hard-working candidates who have studied the right way. Did you know cheating can jeopardise the integrity of the test?
We work hard to protect and secure the integrity of OET. Through our strong systems, we can identify and target individuals that cheat.
While everyone knows looking at another candidate's test is cheating, in other cases understanding what is and what isn't cheating can sometimes be confusing. To help you, we've put together a list of actions and behaviours you might not have known counts as cheating.
1. Talking about test materials after you've finished
One of the first things test takers want to do after finishing their test is talk about their performance. You might call a family member or a friend and discuss how you feel; talking about it can help relieve the stress that's built up over the last week.
However, memorising test content and sharing with others is classified as malpractice.
It's important to not get carried away by talking in-depth about the content of the test and any of the answers you put down.
We understand that taking the test is a big thing, so you will no doubt want to discuss how you went. Just make sure you aren't divulging test content.
2. Sharing or circulating memorised test content
In the same way you cannot memorise and talk about test content, you're not allowed to share or circulate test content. This is especially important in today's social media driven world, where posts and shares can be seen by millions of people in a matter of minutes.
We legally monitor social media as well as messenger groups to ensure that content is not being shared.
So what do you do if you receive test content in person or online? You should immediately notify us via our suspicious reporting form found on our website.
You can remain anonymous as we treat these matters with absolute confidentially.
3. Purchasing leaked test content
Everyone wants to maximise their chances of passing OET, which is why we offer official preparation material on our website.
However, not everything you purchase online is legal. You need to ensure that the materials purchased are official and not leaked.
The best way to do this is to buy material from our official shop or a preparation provider we've endorsed.
What are the consequences?
When you sign the Candidate Declaration at the front of each sub-test booklet, you are agreeing to a contract that forbids you replicating and sharing the test content in any form.
Consequences can include having your grades permanently withheld and your details may be shared with all relevant authorities and regulators.
If you are caught using or sharing illegal material or leaked content with others, you will face serious consequences which may jeopardise your future. You might think you're just sharing content that someone else leaked but sharing this content with others is a form of cheating.
If you have received leaked test materials or content, it's important you report this to us immediately.
If you would like to know more about malpractice and cheating or would like to report anything, contact us today.